ABOUT KAMPONG THOM
Geography
Kampong Thom province is located in the center of Cambodia, half way between Phnom Penh and Siem Reap. It covers 15,061 sq km, 70% of which is covered with forest and agricultural land and 23% of flooded areas. It has its administrative boundary of 8 districts, 81 communes and 737 villages with a total population of 624,846. The main economic activities for Kampong Thom are agriculture (rice plantation, rubber plantation and crops), fishery, forestry, small scale industries and tourism.
Kampong Thom Town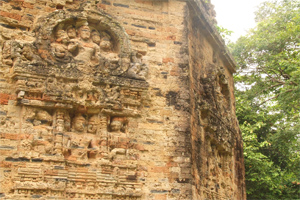 Kampong Thom town was established as the capital city of the province by the French Protectorate in 1886. Today Kampong Thom town is the central city of the province. Provincial government buildings, hotels, restaurants and transport (buses, taxis, tuk tuks and motor dups) are all easy to find in the town.
Archeological Museum
The mueseum displays collections of archeological, historical and cultural artifacts mostly from the VII century from archeological sites in the province.
Santuk Mountain (Phnom Santuk)
Phnom Santuk is the one of the main attractions in Kampong Thom. It is located in Ko Koh village, Ko Koh commune, Santuk district, about 17 kilometers south of Kampong Thom provincial town. There are four mountains: Phnom Srah Kmao or Phnom Tbeng, Phnom Penhum or Phnom Kraper, Phnom Champa and Phnom Santuk. A stairway of 980 steps leads to the top of Phnom Santuk. Take enough water with you! On the top of the mountain there are several Buddha statues and shrines. The view over the countryside is phenomenal.
Prasat Kuhak Nokor
This temple is located about 60 kms on the road from Kampong Thom to Phnom Penh. It's about 2 kms from the main road. Prasat Kuhak Nokor is an 11th century temple built from laterite by King Soriya Voromana I. This temple has the same style of Preah Vihear temple, the Rombang Romeas temple group in Sambor Prei Kuk and the temple ruins at Chiso mountain.
Bird Sanctuary of Boeung Tonle Chmar
The Boeung Tonle Chmar Wetlands is listed as a conservation reservation area of the Tonle Sap Biosphere Reserve on a draft Tentative list of UNESCO World Heritage Sites and is also listed as Ramsar Wetlands Site. The sanctuary was declared a protected area in 1999 and covers an area of 28,000 hectares. Boeng Tonle Chhmar is a state owned sanctuary. The wildlife sanctuary consists of a lake surrounded by flooded forest on the north eastern side of the Tonle Sap lake. It contains areas of permanent open water, a system of small waterways and areas of flooded forest. In the wet season, Boeng Tonle Chhmar ceases to be a discrete lake and becomes part of the much enlarged Tonle Sap. The sanctuary is an example of natural South Asian wetland and is a favorite destination for birdwatchers. The critically-endangered Bengal Florican and other rare birds such as the Eastern Marsh Harrier, Pied Harrier and Greater Spotted Eagle can be spotted here.
Interesting agricultural and handicraft villages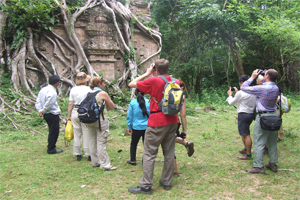 Kampong Thom province boasts a number of interesting villages that specialize in certain handicrafts and in specific agricultural products. During a visit you will learn about the way of living and the livelihood of the local people. Here is a shortlist of interesting villages:
Khmer Noodle Processing Village
About 13 families process noodles from rice for wholesale and for sale at the local market. When visiting this village you will see the process of making Khmer noodles which you can try it at the night market in town.
Palm Sugar Village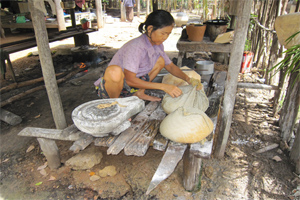 About 100 families make their living selling palm sugar and palm juice. When visiting this village you will see how the local people make palm sugar from palm juice.This only takes place between December and June.
Flatten Rice (Ambok) Village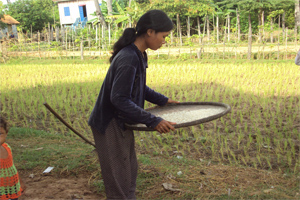 About 200 families traditionally produce Ambok for the domestic market. When visiting this village you will get to know the process of making flatten rice (Ambok) from paddy for very special religious occasions and domestic consumption.
This only takes place between mid August and the end of February.
Organic Rice Farming Village
About 300 organic farmers produce organic rice in a cooperative that had been set up with technical assistance from GTZ. When visiting this organic rice farming village, you will learn how organic rice is planted and harvested, how to control the organic quality, and how the rice is distributed to the local market.
Between mid June and the end of January is the best time to visit this village.
Stone Carving Village
Over 20 village entrepreneurs make a living with producing stone statues. Stone carving is one of the traditional handicrafts in the region.
Visit this village to explore how the villagers carve Buddha statues from a huge chunk of sandstone with their hands. You can observe the whole process from getting raw material to selling the final sculptures.
Silk Farm Village
Visit this village to explore traditional silk weaving activities and the raising of silk worms.
Lunch can be organized here for groups.